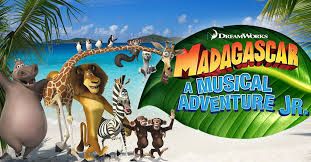 This summer, The Crestwood Drama Program is excited to bring the zoo to the stage with DreamWorks, Madagascar, Jr. Get ready to "move it" with Alex the Lion, Marty the Zebra, Melman the Giraffe, Gloria the Hippo and all of their hilarious friends in this musical adventure based on the animated movie.  

Children entering 2nd grade through our Senior Rec Program (Grades 6 & 7) who have an interest in drama are welcome to join in this fantastic production. There is a part for everyone, both onstage and off. Since the show will be presented in the 7th week of camp, all cast members must be enrolled through the 7th week. Auditions for this production will take place during the first week of our summer program. All campers who audition will receive a role.  

Also back for a third year, is our Mid-Summer show "Crestwood's Got Talent." Any camper interested in another performing opportunity should see the Drama Department during their first elective period to sign-up to participate. The show is presented at the end of our first month session and all campers (grades 2 through Senior Rec) are welcome!

Arielle Murdocco, Crestwood's Drama Director, will be taking maternity leave this summer. We wish her well and look forward to her return next summer. This summer we are excited to announce that our Drama Directors will be Jared Glazer, returning for his 3rd summer at Crestwood and Bruce Katz who will be joining Crestwood for his first summer.

Bruce Katz: Bruce comes to Crestwood with many years of camp experience.  He has spent the past 11 summers as the Musical Theater Director at Camp Lenox in the Berkshires. Bruce is a K-8 music teacher during the year and has directed and performed in numerous theatrical productions. 

Jared Glazer: Jared has his masters from NYU and now teaches high school chorus in the Bronx. He is the resident Music Director of the Children's Theater Program at the Cultural Arts Playhouse. Jared's love of theater started in middle school and he has been involved with it ever since.  

Any questions? Feel free to email CrestwoodDrama@gmail.com or call the office and a Drama staff member will get back to you soon!